Today the Church welcomes a beautiful teaching from our Holy Father Francis on the splendor of Christian marriage and the family.
Entitled Amoris Laetitia ("The Joy of Love'), this letter recalls the essential aspects of the Church's teaching on marriage and the family which are based on Divine Revelation found in Sacred Scripture and Sacred Tradition. The document is intended to "gather the contributions of the two recent Synods on the family, while adding other considerations as an aid to reflection, dialogue and pastoral practice, and as a help and encouragement to families in their daily commitments and challenges."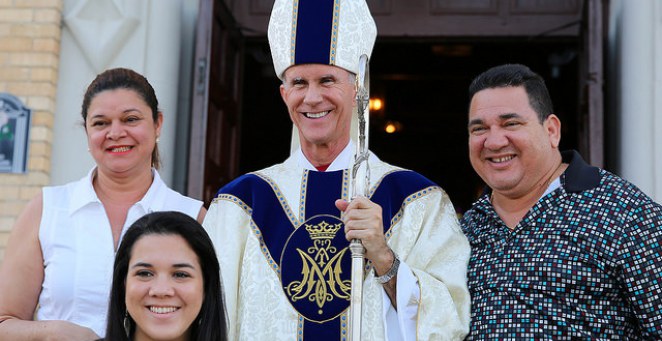 The Pope provides encouragement and instruction for those planning to be married, newlyweds and families, offering approaches that can help these individuals and families create "sound and fruitful homes" according to God's plan. He also laments the threats to authentic love and marriage which are so prevalent in the world around us.
The Holy Father offers advice to those who are struggling and facing challenges, especially those in irregular situations, recognizing the uniqueness of each situation and providing them with guidance on the path to fully realizing the common and constant teaching and care of the Church in their own lives.
Pope Francis also provides important guidance to pastors and parishes on how to support and accompany couples and families throughout their lives.
Amoris Laetitia, which is to be read with and in light of the other magisterial teachings of the Church, including the Catechism of the Catholic Church, the Encyclical Letter Casti Connubii of Pius XI, the Encyclical Letter Humanae Vitae of Blessed Paul VI, and the Apostolic Exhortation FamiliarisConsortio of St. John Paul II, strongly proclaims the beauty, dignity and absolute essentiality of the family and life-long marriage between a man and a woman ordered toward sanctification and procreation.
In this Year of Mercy, I encourage the priests, deacons, religious and lay faithful of the Diocese of Tyler, especially our families, to engage in a careful reading and prayerful reflection on this extensive exhortation of Pope Francis so that marriages and families may be strengthen by both the pastoral care of the Church, and by the beauty of the truth which was taught by Christ and is faithfully proclaimed by His Church.
---
Bishop Strickland

Bishop Joseph E. Strickland was named the fourth bishop of Tyler in September of 2012 by Pope Benedict XVI. Prior to being named bishop, he served a number of roles in the diocese, including vicar general, judicial vicar, and pastor of the Cathedral parish. He was ordained to the priesthood in 1985.