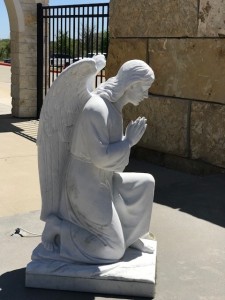 As we begin July, I ask all of us to offer this beautiful prayer at least on Sundays and daily if possible. It was given to me with the request that we offer this prayer from now through the month of October. It reminds us that God is the author of life and as His children we must honor all human life as a gift from our creator. The culture of death has the world in a stranglehold but let us never despair. Jesus Christ is the Lord of Life and He inspires us in His Spirit to always seek the Will of His Father. VIVA CRISTO REY!
"Oh God, Giver of Life,
From the moment of conception
Protect this life
And help us to recognize and guard its sanctity.
From conception, Oh God, we acknowledge
That this life belongs to You
And that to tamper with this life
Is to tamper with Your Holy Plan.
We step back, Oh God, in awe of Your Majesty
And recognize that this life is not ours.
We acknowledge Your Divine Plan for this life
And we remove our hands from Your creation."
---
Bishop Strickland

Bishop Joseph E. Strickland was named the fourth bishop of Tyler in September of 2012 by Pope Benedict XVI. Prior to being named bishop, he served a number of roles in the diocese, including vicar general, judicial vicar, and pastor of the Cathedral parish. He was ordained to the priesthood in 1985.